St Nicholas Cathedral attempts Jubilee bunting record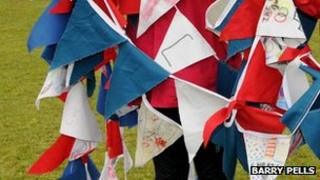 A Newcastle cathedral congregation is attempting to make enough bunting to stretch around the building in honour of the Queen's Diamond Jubilee.
Worshippers, visitors and staff at St Nicholas Cathedral will be making the decorations for The Big Jubilee Lunch .
Cathedral events manager Pam Walker said they were "serious but realistic" in wanting to break the world record of almost three miles.
They have made more than 60 fish-shaped flags so far.
Mrs Walker added: "We'd love to be able to break a record but I suppose our record might be that we're the only cathedral that manages to cover itself in fish.
"We thought it would be appropriate to make our bunting in the shape of fish as the fish is an ancient Christian symbol and the Queen is the head of the Church of England."
The cathedral has had "bin bags full" of donations of material, duvet covers, bed linen and curtains.
Schools and churches around the area have already been helping with the project and the cathedral is running an open workshop from 10:00 until 15:00 BST on Friday to complete it.
The bunting will be used to decorate the cathedral during its flower festival over the Jubilee weekend and again during a "loaves and fishes" event as part of the EAT food festival.
The National Trust's Wallington Hall in Northumberland is also attempting to make the longest bunting, aiming for 3,440m (11,000 ft) using more than 17,200 flags.