Durham University Oriental Museum to reopen after £2m raid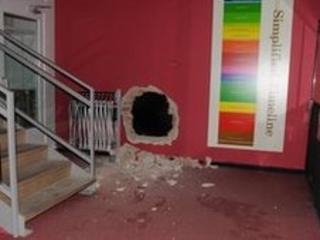 A Durham University museum, which was closed after raiders broke in and escaped with Chinese artefacts worth almost £2m, is to reopen.
Thieves cut a 3ft wide hole in the wall of the university's Oriental Museum and stole a bowl and figurine, which are still missing.
Police arrested five people in connection with the theft. Two men are still being hunted.
Durham University said the museum would reopen on Monday.
The stolen bowl dates from 1769 and has a Chinese poem written inside, while the figurine is of seven fairies in a boat and stands about 12in (30cm) high. Both are from the Qing Dynasty, China's last imperial dynasty.
Security at the museum is being reviewed.
The museum's curator Dr Craig Barclay, said: "A key part of the university's role is to educate and inform and one of the ways we do this is by making our collections available for public display across our museums and galleries.
"Despite the terrible loss of these two artefacts, the university remains committed to ensuring public access to its collections and it is important that we are able to reopen the museum to the public as soon as we possibly can.
"We very much hope that police will be able to recover the stolen artefacts and we urge anybody who may have any information about their whereabouts to contact the police immediately."