Great North Air Ambulance allowed to fly in darkness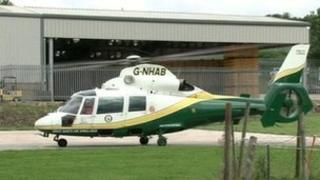 The Great North Air Ambulance Service (GNAAS) is able to fly in darkness after its pilots completed training to comply with Civil Aviation Authority night-time flying rules.
GNAAS pilots are allowed to airlift patients in darkness but must still land at the scene in daylight.
Patients can be carried to landing areas for treatment at hospitals in Newcastle, Middlesbrough and Carlisle.
Chief pilot JJ Smith said it meant the region would be better served.
Despite having racked up hundreds of night-flying hours in war zones around the world during military service, Mr Smith and his colleagues at the charity had previously been restricted to flying only in daylight hours.
All civilian helicopters, including air ambulances, have their movements restricted at night.
Mr Smith said: "I've been at GNAAS for three years and there have been occasions where we have been able to land, but have had to leave the doctor and paramedic on the site because we have not had the right qualifications to fly at night.
"This is now thankfully a thing of the past and means the regions we cover are even better served by the charity."