Durham University Oriental Museum reopens after burglary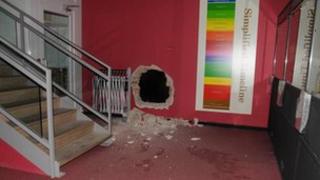 Durham University Oriental Museum which closed following a burglary during which two artefacts worth £1.8m were stolen, has reopened to the public.
The Qing Dynasty bowl and figurine, which were taken on the night of 5 April, have since been recovered.
Thieves cut a hole in the wall to gain entry. It has now been repaired.
A spokesman from the museum said security was being reviewed, but it was important to make the collection available for public display.
Durham Police said the artefacts were recovered by detectives in the Brandon area.
The force added they would be retained as exhibits, but arrangements were also being made for them to be examined by experts to assess whether they had been damaged in any way.
Five people, all from the West Midlands, have been arrested and bailed in connection with the incident.
Detectives have also said they want to speak to two men, Adrian Stanton and Lee Wildman, both from the Walsall area, in connection with the theft.
Dr Craig Barclay, the Oriental Museum's curator, said: "A key part of the University's role is to educate and inform and one of the ways we do this is by making our collections available for public display across our museums and galleries.
"The university remains committed to ensuring public access to its collections and it is important that we are able to reopen the museum."