North Tyneside fire crew rescues hawk from tree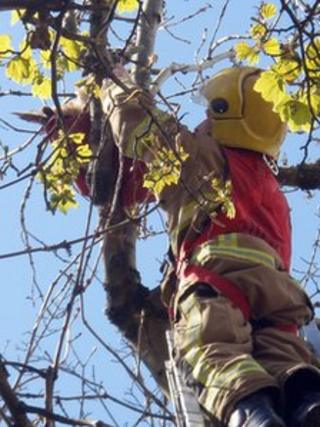 Eight firefighters have rescued a hawk after it became trapped 40ft (12m) up a tree in North Tyneside.
The red-tailed hawk was stuck in the tree in West Chirton for three days, and was attacked by other birds.
Fire crews from North Tyneside East Community Fire Station used a ladder to retrieve the hawk, which has been released into the care of the RSPCA.
The bird is currently being looked after by the Trewitley Owl Trust in Northumberland.
The hawk had trapped itself in the tree when its jesses, small leather straps tied around the bird's feet in order to tether it, became tangled.
The RSPCA believes the bird was stuck in the tree for about three days before it was found in an "emaciated condition".
It has had to be fed by hand since being rescued as its feet, which it uses to tear up its prey, were completely numb.
Firefighters attended the scene in Verne Road, West Chirton at about 12:30 BST on Monday, eventually using a ladder to rescue the hawk.