Durham museum raid inquiry: Two cars recovered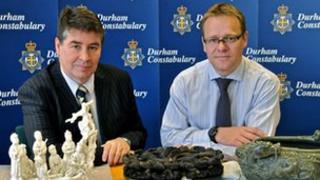 Detectives investigating the theft of rare Chinese artefacts from a Durham museum have recovered two cars which they believe were used in the raid.
Det Supt Adrian Green confirmed that a Renault and BMW had been found at two separate West Midlands locations.
Four men and one woman, all from the Walsall area, have been released on bail after being arrested last week.
Police are trying to locate a blue Audi S3, along with two men they want to speak to about the robbery on 5 April.
Officers want to trace Lee Wildman, 35, one of the five arrested, and Adrian Stanton, 32, both from Walsall.
The artefacts were stolen from Durham University's Oriental Museum.
A solid jade bowl dating from 1769 and a Dehua porcelain figurine from the Qing Dynasty, with a combined value of over £2m, were stolen after thieves cut a hole in the museum's external wall.
It took officers from Durham Constabulary just over a week to recover the lost artefacts which were found in a field near Brandon, a few miles from Durham city.
An expert from the museum confirmed that they were in excellent condition, with no apparent damage resulting from their removal from the museum.