Business call over Durham's Lumiere festival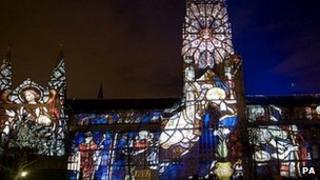 Businesses in County Durham are being asked whether they will support a return of a festival of light.
Durham City's four-day Lumiere event in November 2011 attracted more than 150,000 visitors and generated an estimated £4.3m for the local economy.
The county council, which funded £400,000 of the £1.5m total cost, is considering whether to host it in 2013.
It is canvassing the views of local businesses and other organisations before a decision is made in July.
Councillor Simon Henig, leader of the county council said: "Commissioning Lumiere 2011 did cost us money but we spent that money precisely because we believed it would reap the county significant financial benefits, which it most certainly has.
"It is the role of a good council to put money into events which bring about such rewards.
"I have already had letters from businesses outside of the city including guest houses, telling me they were fully booked for the duration of the four-day festival.
"I would now appeal to others to indicate whether they would support the event's return by writing to me directly if they would like to."