Hexham Abbey reaches £400,000 regeneration target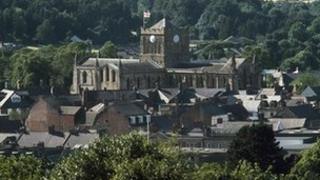 Hexham Abbey's drive to raise funds for its £3m regeneration project has succeeded after just over a year.
The abbey intended to raise £400,000, and achieved the target with a £40,000 donation from J Paul Getty Jnr Trust.
Rector Canon Graham Usher thanked contributors, saying he was delighted to announce the appeal's success after a year holding community events.
He said the project would allow the abbey to serve the community for generations to come.
Canon Usher said: "We are immensely grateful to the individuals, local organisations and businesses and the grant-making bodies who have supported us in our efforts to reach our public appeal target in just a year.
"We could not have done this without the support of hundreds of people, from those who sponsored our fundraisers to the many individuals, organisations and businesses which helped us in so many ways."
The £40,000 donated by J Paul Getty Jnr Trust was the second largest amount offered by any one party since the fundraising campaign began in March 2011.
The largest was a donation of £50,000 from the Wolfson Foundation which was announced in December 2011.
In addition to the £400,000 raised by the drive, more than £2m was generated from grants from the Heritage Lottery Fund and other organisations.
Hexham Abbey was originally founded by St Wilfrid in 674 AD.
The money earmarked for regeneration will be used to help restore its medieval monastic buildings which adjoin the abbey.
The monastic buildings were seized by Henry VIII in 1537, passing through various owners prior to being sold to the local authority, which is planning to transfer them back to the abbey as part of the restoration project.