Run Geordie Run Mark Allison 'warms up' with London marathon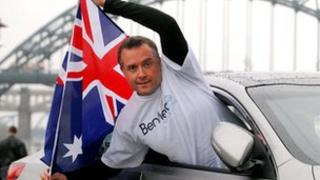 Mark Allison, known as "Run Geordie Run", will use the London Marathon on Sunday as a "warm up" for his trek across Australia in October 2013.
The 40-year-old, from Durham, is running the marathon to help raise funds and awareness of his planned 2,600-mile run from Perth to Sydney.
Mr Allison says money raised from the Australia challenge will be used to repay St Benedict's Hospice after staff there looked after his mother before she lost her battle with lung cancer.
In August 2011, Mr Allison completed a 3,100-mile run from California to New York raising £105,000 for two charities.
During his America challenge, Mr Allison ran an average 30 miles a day and lost 5st (31kg) on the way.
To complete his new challenge he will have to run an average 40 miles a day.
'Not daunted'
Mr Allison will start his trek down under on 16 October in Perth and will travel through Adelaide to get to Sydney some 70 days later.
He will run the 26 miles and 385 yards of the London Marathon on Sunday to help continue his training.
He said: "I haven't had time train for London but I'll get around it and enjoy it.
"I'm not daunted by it, it's something to look forward to and I've done London twice before, so I know the route and I know there will be lots of encouragement round the way."
Mr Allison spent £15,000 of his own funds to cross the USA, but raised £105,000 for St Benedict's Hospice and The Children's Foundation.
He is now looking for more sponsors to help the fund the huge task that lies ahead of him in Australia in 2013.
He said: "The physical training is not the only gruelling task I have ahead of me in the coming months, I am working very hard on securing all the funding needed to carry out the tour across Australia.
"The 70-day tour across Australia is going to cost a little more than the 100-day tour across the USA. Flights, fuel and RV vehicle hire costs are the main reason for this.
"After 17 years of self-funding my efforts, I can no longer afford to stump up the cash myself. Without commercial sponsorship the run across Australia and those I have planned after that will be very difficult to execute."