Durham museum raid inquiry: All three cars recovered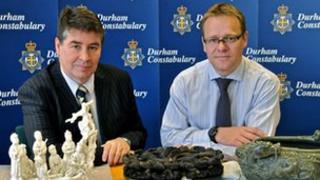 Police investigating the theft of rare Chinese artefacts from a Durham museum have recovered three cars that they believe were used in the raid.
Thieves smashed through the museum wall and stole a Dehua porcelain figurine, an ornate solid jade bowl and its stand.
The items, valued at over £2m, were recovered a week later.
Detectives have found all three vehicles they were looking for and are wanting to question two men.
Four men and one woman, all from the Walsall area were arrested, questioned and released on bail in connection with the investigation.
Police still want to talk to one of those arrested, 35-year-old Lee Wildman, and Adrian Staton, 32, both from Walsall. They have been unable to trace the two men.