Cannabis farm find in Sunderland leads to nine arrests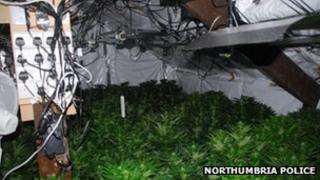 Nine people have been arrested in Sunderland on suspicion of being involved in a conspiracy to produce industrial amounts of cannabis.
About 500 plants were discovered during a search at a house on Otto Terrace, in the city centre, on Tuesday.
One growing cycle of the plants is believed to be worth about £150,000 and police say, if not discovered, the street value could have been much more.
Around £14,000 in cash was also seized at a house on Mount Road.
Those arrested are in their 20s and 30s and police say some of them will now be dealt with by the UK Border Agency.
In a separate operation 200 cannabis plants have been found in a flat in Ashington, Northumberland.
Growing equipment and bags of harvested cannabis were found at other addresses.
A 28-year-old Ashington man has been arrested.