Search continues for Ian Bell, 8, missing in River Wear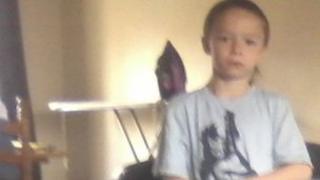 The search for a boy who is missing after falling into the River Wear in County Durham is being extended down river towards Sunderland Bridge.
Specialist divers, RAF and mountain rescue teams have been searching for Ian Bell since Friday night.
Ian, 8, of Sunnybrow, was playing with friends near Willington, Crook when he fell from an embankment near the Brown Trout pub at Prospect Place.
A local resident said people were "out there with sticks", helping the search.
Dave Hindmarsh, from Crook, said the local community had pulled together.
"Crook and Willington people are all the same, they're all very close knit, when a tragedy like this happens everybody turns out," he said.
"The river's a very, very winding river. It has a lot of build up of branches. It goes all the way down to Sunderland Bridge and down to Sunderland, so there's a lot of snagging areas," he added.
"Everyone's out there with sticks, poking around in the build up of weed and trees."
Durham Police are expected to make a statement regarding the search later.