Shipwreck heroine Grace Darling letter auctioned for £460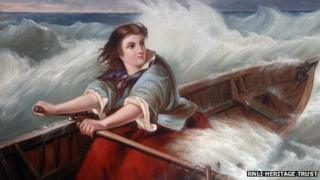 A letter written by a 19th Century Northumberland heroine has sold for £460 at auction in Edinburgh.
Grace Darling rowed out to a shipwreck off the Farne Islands during a storm in 1838 and helped save 9 people from the foundered SS Forfarshire.
Her signed letter, written in January 1840, is about a trust set up using the money donated to her after her rescue.
The RNLI Heritage Trust was the winning bidder. The letter will be displayed at the Grace Darling Museum in Bamburgh.
The lot fetched more than its expected price of between £350 and £450 at Edinburgh auction house Lyon and Turnbull.
On the night of the storm, she assisted her lighthouse keeper father in the rescue, holding the rowing boat steady while the survivors were helped into it.
The press picked up on her exploits, and she became a national celebrity, with money raised on her behalf.
Addressed from her home at the Longstone Lighthouse, the letter has until now been part of a private collection in west Scotland.
A section reads: "Four trustees... have kindly taken in hand to manage my affairs, that they propose placing the whole of my money in the fund, that I receive the interest for life with power to withdraw £200 in case I should get married."
Grace Darling died of tuberculosis at the age of 26 and was buried at St Aidan's Church in Bamburgh.
The RNLI has set up a museum in the village in commemoration of her.
Joanna Bellis, of the RNLI Heritage Trust, said the organisation was "delighted" to be adding the letter to its collection.
"It's a letter that is absolutely typical of the kind of letters Grace was writing to the many kind people who donated money following the rescue," she said.
"Grace wanted the people who were kind enough to donate to know this money was being handled correctly."