Labour gain seats on North East councils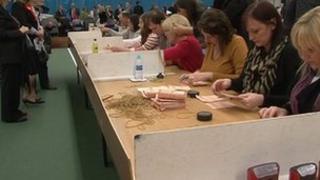 Labour have tightened their grip on Gateshead, Newcastle, Sunderland and North and South Tyneside councils in the local elections.
Voters in Newcastle decided not to have an elected mayor, with 62% voting to keep the current council leader system.
After losing their only South Tyneside seat to Labour, the Lib Dems no longer have a presence on either council.
Labour also gained seats in Gateshead, Newcastle, Sunderland and North Tyneside.
The mayoral referendum saw 40,089 people vote to retain the existing system with a council leader, while 24,630 voted to have a mayor.
On Newcastle's council, Labour gained six seats bringing their total to 51, with the Lib Dems losing six, now holding 26 seats, and the Independent Party held on to their only seat.
'Lots right'
In Gateshead Labour gained five seats, the Lib Dems lost four and the Liberals lost their only seat.
The other Labour gains in South Tyneside were from independents, with the Tories holding on to their one seat.
In Sunderland, the party took eight seats from the Conservatives, an independent, and the sole Lib Dem.
Labour now have 64 councillors, the Conservatives eight and there are three independents.
Labour leader Paul Watson said: "We are being judged on our local policies and getting lots of things right locally.
"Nevertheless, it is the overall impression that the national government is making the policies that aren't working but are hurting that's paid off for us."
In Gateshead, a third of the seats were available - Labour now have 55 councillors and the Lib Dems have 11, after just over 34% of people turned out to vote.
In North Tyneside, the council is now made up of 44 seats for Labour, 12 for the Conservatives and four for the Lib Dems.
Dog bite
Conservative Robert Oliver said: "I think it's sending the message that people obviously don't like things being taken away from them.
"I think they appreciate it had to be done, but you can't expect them to like it.
"We now need a recovery, we need growth in the economy and if that happens in two years time you might be seeing more Conservative councillors in Sunderland."
Labour have 48 seats in South Tyneside, there are four independents, one Conservative and one UKIP councillor.
Sunderland was the first council in the UK to declare. At the South Tyneside count, tensions ran high with some of the candidates leaving before the result was announced.
Conservative Jeff Millburn was not present to hear that he had retained his seat as he was being treated in hospital, having been bitten by a dog while delivering leaflets earlier in the day.
· All the latest election results are available at bbc.co.uk/vote2012