Durham University Oriental Museum burglary: More charges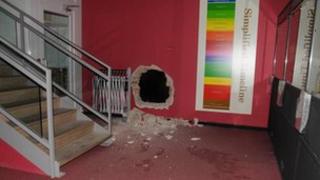 A second man has been charged in connection with a raid at Durham University's Oriental Museum in which artefacts worth almost £2m were taken.
Thieves cut a 3ft wide hole in the wall of the museum on 5 April and stole a Chinese bowl and figurine.
Justin Clarke, 30, of Walsall, was arrested by Durham Police after officers released his picture and said they wanted to speak to him.
He has been charged with conspiracy to commit burglary.
Lee Wildman, 35, of Walsall, was charged on Tuesday with conspiracy to commit burglary and is due to appear at Peterlee Magistrates' Court later.
The Qing Dynasty bowl and figurine were recovered by detectives eight days after the theft, in the Brandon area of Durham.
Ten people in total have been arrested during the investigation.
Two women, aged 27 and 19, and a 32-year-old man are in custody being questioned.
One man aged 27 has been released with no further action. Three men and another woman are on police bail until early June.