Sir Bobby Robson statue unveiled at Newcastle stadium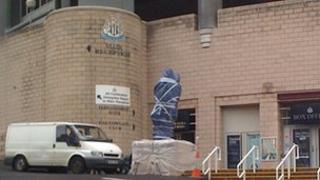 A statue of football legend Sir Bobby Robson is about to be unveiled at the Newcastle United ground.
The 9.5ft (2.9m) bronze figure depicts the former Newcastle and England manager at the peak of his fame, when he was about 60.
It was placed at the south-west corner of the stadium, before the last home game of the season.
The ceremony was attended by his widow, Lady Elsie Robson, and some of those who had played under him.
Sir Bobby, who died of cancer at the age of 76 in July 2009, managed Newcastle United for five years between 1999 and 2004.
Lady Elsie praised Newcastle United for funding the statue and said it was a "fitting" tribute.