Port of Tyne profits more than double to £9m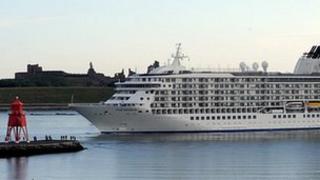 The Port of Tyne is reporting that profits have more than doubled to £9m in the last year.
Figures published on Thursday also show an increase in turnover of almost a third to £60m.
An estimated £10bn worth of goods passed through the Port of Tyne in 2011 - 60% related to exports and 40% to imports.
The port's chief executive, Andrew Moffat, credited the success to the commitment of the port's employees.
There has also been more than £100m of investment in infrastructure at the port over the last 10 years, including deepening the river, strengthening the quayside berths and developing purpose-built infrastructure for new cargoes.
The deep sea port can now accept the majority of the world's biggest cargo and cruise ships.
"Today's announcement is good news not only for the port but also the region," said Mr Moffat.
"We have a responsibility to ensure that the port serves businesses and communities of the North East region and plays its part in helping achieve economic growth."