Sunderland church to be transformed into 'canny space'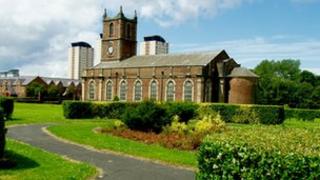 A group in Sunderland is appealing for the local community to help develop a historic church into a £2m community centre.
Holy Trinity Church in Hendon, which was built in 1719, was once at the heart of the community.
But over the years people moved out of the area and in 1988 the Grade I listed church was decommissioned.
It has been cared for by The Churches Conservation Trust which now wants to turn it into The Canny Space.
Isabel Assaly, regeneration officer for the trust, said: "We want to see the building brought back to life and become a hub of local activity, valued and used both locally and by the wider city and region.
"Our vision is to develop a thriving and innovative centre for heritage, performance, learning and education which delivers real benefits to the community."
'Restore civic pride'
The trust will work with local partners in the area to restore and repair the building.
The team hopes to raise about £2m in funding over the next two years in order to complete the project.
Ms Assaly said: "The Canny Space will improve access to education and learning in the area and generate employment and income for the local community through events and activities.
"Access to these services in Hendon is currently low and this project will help restore civic pride and provide a sustainable future for both the building and the local community.
"It is important that the local community get behind the project and feed into the consultation process to let us know what they want to see happen at The Canny Space."
Four Sunderland-based organisations - Living History North East, Hendon Young People's Project, The Bunker and the University of Sunderland are working with the trust on the project.
A number of public consultation events have been planned this month to help promote the project.