Alam Pesona sets Port of Tyne cargo record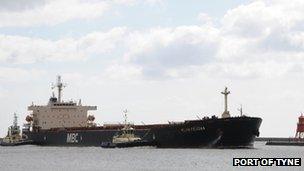 A new record has been set for the largest cargo to arrive at the River Tyne in north-east England.
The 751.31ft (229m)-long Alam Pesona, laden with 76,195 tonnes of coal, has arrived at the Port of Tyne after a trip from New Orleans, in the US
The shipment beats the previous record of 75,000 tonnes set by its sister ship the Alam Penting.
In 2011 more than two million tonnes of coal was imported via the port.
It will take approximately three days to unload the cargo.
Coal will be stocked at the port and distributed by train when required by energy customers in North Yorkshire.
Related Internet Links
The BBC is not responsible for the content of external sites.