Hunt Kidd solicitors in Newcastle jailed for £1m theft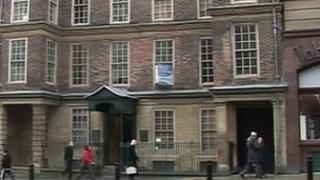 Two solicitors who stole more than £1m from clients at a Newcastle firm have been given jail terms.
Kenneth Hunt and Barbara Gayton had earlier pleaded guilty to fraud by abuse of position.
Hunt, 65, of Longhoughton, near Alnwick in Northumberland, was jailed for four years, and Gayton, 53, of Broadwell Court in South Gosforth, for two.
The pair took a total of £1,049,103 between October 2008 and October 2009 while senior partners at Hunt Kidd.
The company, on Pilgrim Street, was closed in November 2009, following a related investigation by the Solicitors Regulation Authority.
'Destroyed professionally'
Newcastle Crown Court heard that it specialised in property and employment law but when the credit crisis hit its turnover dropped by half in six months.
In an attempt to keep the business afloat the pair transferred the cash from their client's accounts.
The prosecution said it was accepted they had not been motivated by lining their own pockets, but both had benefited personally by the fraud.
Hunt, who described himself as a wealthy man, continued to enjoy a life of some luxury, enjoying fine dining, wine and travel, and was in the Caribbean when police went to arrest him.
The prosecution said his fraud was driven by vanity. His defence said he had intended to pay the money back.
In sentencing, Judge Guy Whitburn described the pair as "destroyed professionally".
He said: "It is abundantly clear that you, Kenneth Hunt, instigated this fraud.
"Mrs Gayton, it was quite clear that the fraud was continued by you and assisted by you. You should have blown the whistle."