Anger over delays in trial over Joe Arthur's death in Greece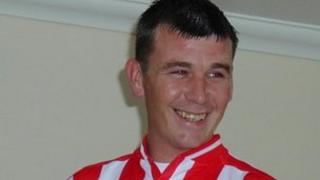 The family of a Sunderland man killed in Greece has expressed concern over what it says are delaying tactics in bringing those responsible to justice.
Joe Arthur was on a holiday in Corfu in September 2006 when he was attacked and later died in hospital.
A barman was later charged with assaulting him and two doctors accused of manslaughter through negligence.
However, the trial has been adjourned three times and the family fears it will be timed out after eight years.
The 34-year-old, from Grindon, was allegedly hit by a pool cue in an unprovoked attack.
He was treated in hospital, then discharged but later became seriously ill and died.
Initially, the doctors ruled the father-of-two died of a heart attack but an inquest in the UK established he had died of a brain haemorrhage caused by the attack.
Although charges were brought, the case has not yet come to court.
Mr Arthur's sister, Tracy Page, said: "I really think he was treated as a lager lout and he wasn't anything like that on holiday."
She said the delays left the family unable to move on.
"We haven't got a grave to put Joe in until we've got everything sorted," she said.
"We want somewhere his little boy can go and put flowers. At the moment his ashes are in my sister's cupboard."
'Tears and emotion'
On Thursday the family's MP raised the case in the House of Commons.
Bridget Phillipson, Labour MP for Houghton and Sunderland South, said the situation should not be allowed to continue.
After a recent adjournment the family will once again return to Corfu later in the month but are concerned that the trial will still not go ahead.
Ms Page said: "I'm not asking anyone for anything other than the court case to be heard.
"I feel tears and emotions doesn't get us anywhere.
"We need the hard facts to come out to see what really happened because when the story does come out people won't believe how unfairly Joe was treated.
"It's just absolutely unbelievable."