Gateshead £4.7m cinema development creates 60 new jobs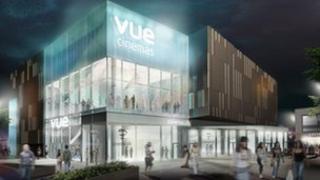 A £4.7m cinema development in Gateshead has been given the go-ahead by councillors - creating about 60 new jobs.
The five-floor Vue cinema will be the latest addition to Gateshead centre's £150m Trinity Square development.
Gateshead Council's Planning and Development Committee gave to go-ahead for the cinema on Wednesday.
Leader of Gateshead Council, Mick Henry, said it was a "big and exciting" step towards the revival of the town.
The nine-screen cinema on the High Street will have bronze-coloured reflective cladding and large areas of glazing.
'A long road'
Mr Henry, said: "This really is a big and exciting step forwards in the revival of central Gateshead.
"It's been decades since we've had a cinema right in the town centre and I know lots of local people will be thrilled.
"I know it's been a long road to get to the regeneration of the town centre, but I hope local people are now seeing that patience is really paying off."
The Trinity Square development will transform the former site of the "Get Carter" car park, the indoor market and current Tesco store.
Student accommodation, 45 retail units, a health centre, offices and a Tesco Extra will be built.
The 24,000 sq ft (2,230 sq m) cinema will be built at the junction of High Street and is expected to be completed by late summer 2013.