Seaham boathouse restoration under way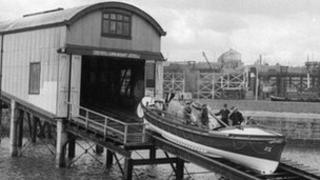 Work to restore a lifeboat that was shipwrecked after a rescue off the County Durham coast, is under way.
The £282,000 scheme will also see Seaham Lifeboat House - its base - and an education centre built.
There will also be a display area for the George Elmy lifeboat, whose crew was lost when it was hit by a freak wave in November 1962.
Julie Anson, from Durham County Council, said it will be a "fantastic addition to the new marina".
The old fisherman's cabin and the trimmers hut next to the building have now been demolished, allowing the restoration of the boathouse to begin.
Freak wave
The renovation will include the installation of a viewing platform alongside the George Elmy, which will be mounted in purpose-built cradle.
The new heritage and education centre will be built on the site formerly occupied by the fisherman's cabin and will be directly linked to the boathouse.
Ms Anson said: "The redevelopment of the lifeboat house is the result of a real partnership effort.
"The restored building and new visitor facility will be a fantastic addition to the new marina, bringing tourists into the town but also offering local residents the chance to learn about their history and heritage."
The George Elmy was shipwrecked when it was returning to home port after rescuing five sailors on board a fishing coble coble.
It was hit by a freak wave near the town's South Pier, claiming the lives of all but one of those on board.