Tyne and Wear Metro: Strike talks fail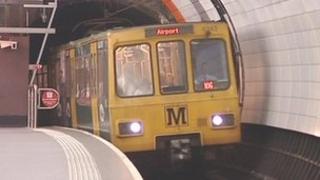 Talks aimed at averting a strike on the Tyne and Wear Metro have broken down.
Metro owners Nexus said Monday's talks between operating company DB Regio Tyne and Wear (DBTW) and RMT, Aslef and Unite unions failed to reach agreement.
The RMT union had announced 24-hour walkouts on 7 June and 21 June, while cleaners planned to strike on 10 June from 22:30 BST for 48 hours.
Staff had voted to strike in three separate disputes over pay and other issues.
Director General of Nexus Bernard Garner said: "I am very disappointed the talks between DBTW and the unions have broken down, despite a significantly improved pay offer on the table which can only be considered generous given the current economic climate in the north east.
"We continue to urge both sides to seek a resolution.
"The strike on Thursday will mean significant disruption for passengers, not least those heading to the Coldplay concert in Sunderland."
RMT representative Micky Thompson said the rejected 2.1% offer might be "perceived as a large pay offer" but did not address the "true rise in the cost of living".
Thousands of fans are due to visit the Stadium of Light on 7 June and 21 June as it is due to play host to Coldplay and Bruce Springsteen concerts.