Theft mars St Nicholas Cathedral Jubilee celebration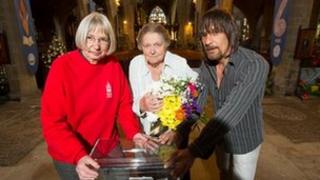 Jubilee celebrations at a Newcastle cathedral were marred when items including medals were stolen from displays.
St Nicholas Cathedral held a weekend of events, including a flower festival, to mark the Queen's Diamond Jubilee which attracted more than 2,000 visitors.
Military medals, map-making instruments and a vintage flying scarf were taken from the floral exhibitions.
The thefts were condemned as "a wanton act of selfishness".
Reverend Canon Sheila Bamber said the thefts were "outrageous".
She said: "These displays were designed to be part of the celebration of a great occasion in our nation's life and stealing from them is a wanton act of selfishness and blatant disregard for anyone else.
"I simply can't understand what makes anyone stoop so low as to steal items that have very little monetary value but to their owners are priceless in term of sentimental value.
"These thieves have just wandered in wilfully, and spoil other people's parties and celebrations, it's not on, it simply isn't."
She said last year a collection box, containing less than £20, was stolen from the cathedral.