River Wear 'remains too unsafe' for Durham regatta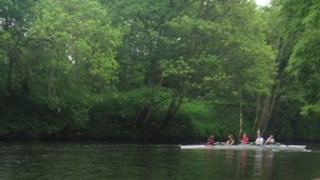 Organisers of the Durham regatta are "unable to say" when the event will take place following its postponement due to bad weather.
The annual rowing event known as the "Henley of the North", was cancelled on Saturday as the River Wear was running too high.
It was hoped the two-day event would be able to go ahead on Sunday, but the river was still deemed unsafe.
Now in its 179th year, it usually attracts thousands of spectators.
A spokesman for the event said: "Although the river level is falling, the Race Committee is unable to say when, or even if, it will be safe to allow racing to take place."
The regatta was the start of a week-long series of events climaxing with Durham's Olympic Torch celebrations.
Top rowers from around the UK and abroad were due to compete for more than 50 trophies.