Tyne and Wear Metro cleaners on 48-hour strike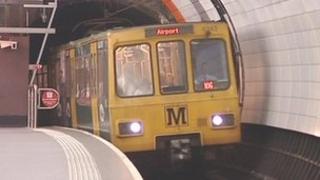 A 48-hour strike by cleaners on the Tyne and Wear Metro is under way.
The workers, who are part of the RMT union, are taking action in a row over pay and conditions with their employer, Churchill.
There is also a second dispute in protest at the "unfair" disciplinary action taken against a colleague.
The action began at 22:30 BST on Sunday, and is due to end at 22:29 BST on Tuesday. Services do not appear to have been affected.
RMT general secretary Bob Crow said: "In the face of the insulting zero pay offer from the company we have had no option but to strike in the battle to eliminate poverty pay and to improve our member's standard of living.
"Our members voted 100% to strike in a magnificent show of unity and determination to end this exploitation... This fight is about securing pay justice for the cleaners on Tyne and Wear Metro, it's as simple as that."
Churchill, which employs the cleaners, had earlier said that the offer the company had made to workers, which amounts to additional training and an extra day's holiday per year in place of a pay rise, was "generous".
On 7 June a walk-out by of drivers and other workers in a pay dispute with operating company DB Regio Tyne and Wear (DBTW) brought the network to a standstill, with further action planned on 21 June.