Olympic torch relay: Drivers warned of delays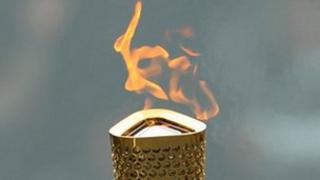 Motorists are being warned to expect disruption as the Olympic torch relay arrives in the north-east of England.
The torch crosses into Northumberland on Thursday and will visit North and South Tyneside, Gateshead, Newcastle, Sunderland and County Durham.
Crowds are expected to line the route to welcome the flame and there will be rolling road closures and some routes closed as the convoy passes.
Councils are urging people to check route details for their travel plans.
The relay arrives in Berwick on Thursday afternoon after arriving from Scotland and will be carried through Bamburgh and on to Alnwick for the evening celebration.
Northumberland County Council has details of rolling road closures with non-torch motorists being advised to avoid the route if possible
On Friday, the relay starts in Alnwick and travels to Newcastle through Northumberland, Whitley Bay, Cullercoats, Tynemouth, Whitley Bay, Howdon, Wallsend and into Newcastle.
North Tyneside Council has advised people to allow extra travelling time for any journeys because of rolling road closures and diversions.
The torch will arrive in Newcastle during rush hour and Newcastle City Council said there would be temporary road closures including restrictions on the Tyne Bridge, from where the torch will travel across the river by zip wire.
It said efforts would be made to keep disruption to a minimum and people going to the evening celebration event on the Quayside are advised to use public transport.
On Saturday, the route starts in Gateshead with an abseil down the Sage and will take in a number of landmarks including Gateshead International Stadium and the Angel of the North. Gateshead Council warned drivers to expect some delays.
It then travels through a number of locations including South Shields, Whitburn, Sunderland, Gateshead, back through parts of Northumberland, into County Durham and finishes with an evening celebration in Durham City.
South Tyneside Council has advised people the best place to see the torch will be at the Leas and has advice for people travelling to see it.
The celebrations in Sunderland include an event at Herrington Country Park and Sunderland City Council has advice about the best places to watch the torch.
Durham County Council has details of road closures for Saturday and Sunday, when the relay heads down to Middlesbrough.