Judith Richardson killing: Graeme Jarman 'planned hammer murder'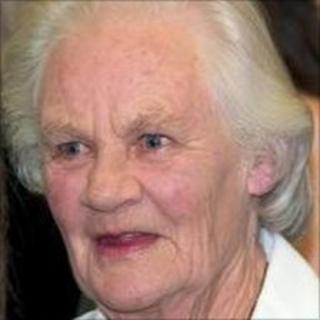 An attack on a pensioner who was battered to death in her Northumberland home was planned, a court has heard.
Graeme Jarman struck Judith Richardson, 77, with a hammer at least 30 times before ransacking her Hexham home, Newcastle Crown Court was told.
Jurors heard 48-year-old Mr Jarman, from Delves Lane, Consett, gained access to her home by showing her leaflets from Age UK.
The defendant denies murdering Miss Richardson, in August 2011.
The court was told Mr Jarman stole the hammer from a department store and, after the attack, took Miss Richardson's handbag and some jewellery.
Robert Smith QC, prosecuting, said it "was not a chance encounter with Miss Richardson" and that there was "clear and material evidence" linking Mr Jarman to the killing.
'Potential victims'
"The prosecution's case is that the defendant planned her killing and went to her home well-prepared for what he intended to do.
"In order to kill Miss Richardson, the defendant needed to gain access to her home and to have available some means of explaining his presence in the road where she lived, should he be challenged.
"His method was simple. He took with him two leaflets issued by the charity Age UK."
The court was shown CCTV of Jarman in Hexham the day before the pensioner's death, which appeared to show him talking to elderly residents.
The prosecution claims he was "observing potential victims".
Mr Smith told the jury Mr Jarman's fingerprints were found on the leaflets and DNA matching his was found on a tissue in Miss Richardson's bedroom.
Jewellery sold
He said tests had found the likelihood of it not being Mr Jarman's was one in a billion.
Mr Smith said the defendant had thrown Miss Richardson's handbag in a bin in Newcastle and sold the jewellery for its £300 scrap value.
"The actions of dropping that handbag into the bin were to result in the discovery of her body later that day," he said, adding that a member of the public found it and alerted police.
In the hours after Miss Richardson's death, Mr Jarman visited a number of towns in the region by bus and taxi, buying new clothes and shaving his head in what the prosecution claims was a bid to disguise himself.
Mr Jarman was arrested in Filey, North Yorkshire, after being spotted by a member of the public.
The trial, which is expected to last four weeks, was adjourned until Thursday.