Keelman's Way cycle route link opened in Roy Deane's memory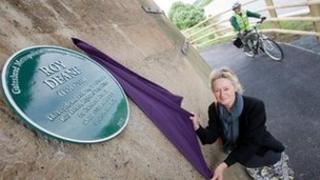 A new link on the Keelman's Way in Gateshead has been opened in memory of a long-serving council officer who masterminded its creation.
Roy Deane was the man behind the improvements to the national cycle route along the banks of the River Tyne.
Mr Deane died before the improvements could be completed.
He has been remembered with a plaque at Newburn Bridge which was unveiled by his widow, Alison Deane.
The improvements have been designed so cyclists and walkers no longer have to cross the busy Newburn Bridge.
Gateshead Councillor John McElroy said: "Everyone who has ever had any involvement with footpaths or cycling in Gateshead knew Roy.
"He played a pivotal role in creating the network of accessible routes we have today and his vision and foresight was much appreciated by walkers and cyclists alike.
"He is much missed and this gesture is the very least that we, as a council, can do to make sure that his work is remembered."