Play of Chris Mullin diaries transfers to West End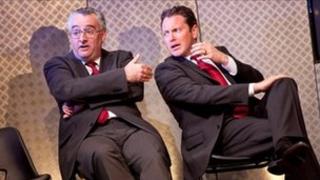 A play based on the diaries of the former Sunderland MP Chris Mullin is due to make its West End stage debut.
A Walk On Part: The Fall of New Labour performed sell-out runs at Newcastle's Live Theatre and London's Soho Theatre.
It dramatises Mr Mullin's time on the backbenches and as a junior minister during Tony Blair's Labour government between 1999 and 2010.
Mr Mullin said he never imagined his diaries would end up on a West End stage.
"When in fact Michael Chaplin, the writer, and Max, the director, came along and they asked me if they could turn it into a play I couldn't see how they were going to do it," he said.
"But they did an astonishingly good job I think and I'm very happy with the way it's turned out."
Max Robert, the play's director, said the diaries and stage adaptation provided a "very interesting insight into the feral wars of Westminster during the last 15 years of government".
He said they also offered an interesting perspective from Mr Mullin's former constituency, Sunderland South.
The play runs at the Arts Theatre until 14 July.