Kirkharle lorry oil spill 'threatens endangered crayfish'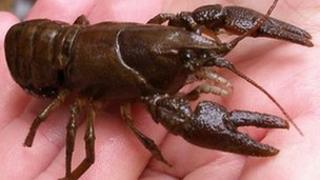 A fuel spillage from an overturned lorry has left fears the habitat of the endangered white-clawed crayfish will be damaged.
The tanker shed about 27,000 litres of aviation fuel, around two-thirds of its load, when it crashed on the A696 near Kirkharle early on Monday.
A clean-up operation is under way, and could take weeks to complete.
Environment Agency officers are also monitoring a nearby stream which runs into the River Wansbeck.
Absorbent booms have been put into nearby water courses, to contain any leaking oil.
'Notice a smell'
Dave Edwardson, from the Environment Agency, said: "We're very concerned about potential pollution.
"The Wansbeck catchment is very important for the population of native crayfish, so we've got ecology officers monitoring the impact.
"It's inevitable with a spillage of such a large quantity of oil that not all of it will be contained on site.
"People living nearby will see some evidence on the surface of water courses, and they will certainly notice a smell in the surrounding area."
Environmental officers would be on the site regularly to monitor the progress of the clean-up, Mr Edwardson added.
The incident led to the closure of a section of the A696 - one of the main routes into Scotland - for more than 30 hours.
On 28 May, the same road was blocked when a wind turbine stem came off a trailer near Otterburn. The recovery operation took five days.