Jets 'panic Farne Island kittiwakes and cause chick deaths'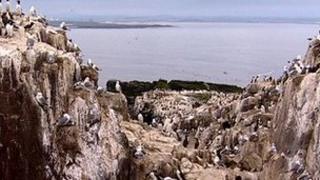 The RAF has been accused of causing the deaths of large numbers of young seabirds off the Northumberland coast.
It was reported that a low-flying jets taking part in training over the Farne Islands on Tuesday led to mass panic among thousands of nesting kittiwakes.
Chicks were knocked into the sea and drowned as parent birds took off. The islands are home to an estimated 80,000 breeding pairs.
The MoD said it would be carrying out an investigation.
Andrew Douglas, who operates visitor boats from Seahouses and was out at sea at the time, said: "The RAF went right over the top of the islands.
"You should have seen all the people's faces on the boat and seen all the birds go flying into the sky. It was not very nice.
"The jets scared them and they knocked the chicks into the sea as they took off."
Operational duty
The National Trust, which manages the islands, said in a statement: "The National Trust are very concerned about recent incidents of low flying aircraft over the Farne Islands and the disturbance it can cause nesting birds.
"We are currently investigating the matter in conjunction with the RAF and are working together to reach a quick and positive resolution as soon as we can."
An MoD spokesperson said: "The MoD has received calls relating to alleged low flying by RAF jets over the Farne Islands.
"These will be investigated fully by the Defence Flying Complaints Team and if necessary, appropriate action will be taken.
"Flying training is carried out across the UK to develop and practise the techniques needed on operations such as in Afghanistan.
"While we have a responsibility to ensure that military aircrews are fully trained and prepared for operational duty, we recognise our responsibilities to the general public and wildlife and will continue to do all we can to minimise disturbance."