Blaydon Races sculpture unveiled in Gateshead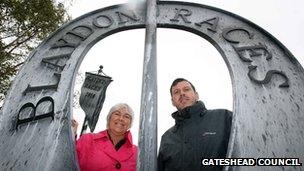 A sculpture has been unveiled to commemorate the original location of the Blaydon Races.
The artwork, by sculptor Andrew McKeown, represents the horses and jockeys as they approach the finishing line of the race.
Earlier this month, people celebrated the 150th anniversary of the legendary races' song, which is about the journey to the event on 9 June, 1862.
A train has also been named after the anthem.
Three almost-life-size horses and jockeys, a three metre tall winning post and two five metre high flagpoles are not far from the site of the, now removed, island where the most famous races took place.
Linda Green, from Gateshead Council, said: "The heritage of the original Blaydon Races has become intertwined with the famous song.
"By all accounts it was quite a spectacle and it obviously fired a spark in the imagination of Geordie Ridley and thanks to him the races have become part of modern Tyneside folklore.
"This new sculpture is an excellent way of remembering the races and ensuring that everyone who passes by on this new route will know that they are passing through a piece of Tyneside history that is known throughout the world."
Mr McKeown said: "I hope that it acts as a visually appealing reminder to passers-by, travellers and the people of the Tyneside, that this was the site of the original Blaydon Races."
The Blaydon Races originally consisted of a horse race and fair.
Since 1981, a road race has also been run from Balmbra's pub in Newcastle's Cloth Market to Blaydon, following the route of the song.
Walker-born singer-songwriter Pete Scott worked on a project with BBC Newcastle to compose a new version of the song by asking listeners to send in their ideas.
Related Internet Links
The BBC is not responsible for the content of external sites.