Newcastle Twitter user Natalie Westerman receives NatWest complaints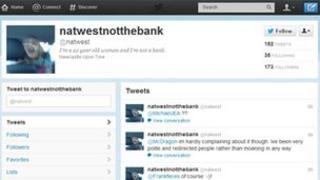 A woman called Natalie Westerman has told how she received a string of complaints on Twitter about a NatWest computer error.
Miss Westerman, 22, who uses @natwest on Twitter, was targeted by the bank's customers after it suffered a computer glitch on Thursday.
The Newcastle-based teacher said: "I've never felt so popular in my life. I am a person called Nat West, not a bank."
She has been commended for her sense of humour by other tweeters.
Miss Westerman, who signed up to Twitter about three years ago, said she chose Nat West, a nickname, as her username.
It was while checking her Twitter account on Sunday she said she became aware of the problem.
"I went online and I had about 150 people complaining to me, so I was redirecting them all last night," she said.
She has been explaining to angry tweeters that she is a real person and has been redirecting them to the bank's official twitter account @natwest_help .
"I originally had 79 followers, now I have got more than 400, " she added.
The tone of the messages has also changed, according to Miss Westerman.
"It is more people now sending me sympathy than complaining to me about the bank."
RBS, which owns NatWest and Ulster Bank, said services should be "largely back to normal" on Monday following computer problems that have affected thousands of customers.