Newcastle school 'devastated' by flooding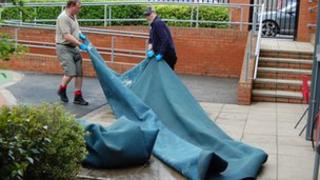 Newcastle's Royal Grammar School is mopping up after being hit by a second major flood in four years.
More than 120 staff, parents and students were on site on Friday to aid in the distressing job of ripping up damaged flooring and drying out flooded classrooms after flash floods hit the city on Thursday evening.
Head teacher Dr Bernard Trafford, who joined the school weeks before the last flood in 2008, described the scene as "devastating".
He said: "Water flooded off the nearby Town Moor and the surrounding roads and it was literally a river coming through the gates.
"It made a lake of our sports pitch and made its way into the main building, where it was at least 1ft deep in the corridors.
"It was about 6pm and we were rehearsing for something due to take place on Saturday.
"But it was soon obvious that what we were facing was a torrent and it just wasn't safe to be here.
"Before we knew it the water was knee deep and was running like a torrent. It was like rapids at times.
"The whole length of the building has been affected and every bit of carpet will have to come up.
"Some of the wooden floors have also come up with the force of the water and debris that came with it. It's just extraordinary.
"In the end we just had to order people out because it wasn't safe.
"Staff have all turned in to help. They have been fantastic."
The fee-paying school was founded in the 16th Century and caters for 1,260 students.
Head of year Steve Watkins, who arrived at the school at 07:30 BST on Friday, said: "This is totally unbelievable.
"We've been trying to move all the water out of the archive area in the basement.
"It's an absolute mess but we're doing our best to pump out the water, sand and muck. It's absolute chaos."
Bursar Richard Metcalf added: "We're trying to take stock of the damage and get information to our insurers.
"At the moment we've got a massing salvage operation going. We're taking floors up in rooms and corridors that are damaged beyond repair, getting equipment out putting an awful lot of stuff in skips.
"Our target is to be open for school on Monday, but we also have a prize giving on Saturday which we'll be disappointed if we can't go ahead with.
"The main damage is to the timber floors that have lifted and carpets that are just ruined.
"Our last flood resulted in about £150,000 in damage and it looks like this could be worse."
Jim Pollack, a teacher in the adjoining junior school, which also suffered damage, added: "When I got here last evening, there was just a deluge of water rushing through the school.
"The saddest thing was seeing all the water cascading into the older part of the school. But all the staff have come in and we're all trying to stay positive and hopefully we'll be OK for Monday."
Ruth Robson, who has two daughters in the junior section of the school and is chair of the Junior School Parents Association, said: "I had a call this morning from a members of staff and I came down straight away.
"Virtually all members of staff and cleaning staff are just getting on with it and it's all hands to the pumps.
"There's extensive damage to the school, but we're determined to get things back to normal as quickly as possible."