Forestry Commission puts deadly larch disease on camera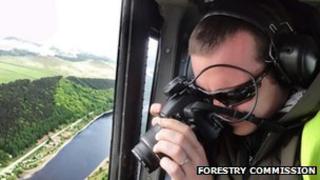 Forestry Commission experts are taking to the air to fight a deadly disease that is killing larch trees.
The Commission flights, across Northumberland and County Durham, are part of a nationwide attack on Phytophthora ramorum.
Teams of experts take hundreds of aerial images of the regions' woodland for signs of the pathogen infection.
The lethal disease was first discovered on larch trees in the UK in 2009 in the south of England.
Since then, it has spread to many parts of western Britain, including Cumbria, where six sites are known and Lancashire with a further nine.
The latest helicopter flights were over parts of County Durham and Northumberland.
In all, the flights will notch up more than 20,000 miles this year.
'Rapid spread'
Ben Jones, Forestry Commission England's Plant Health Operations Manager, said: "Larch trees produce huge numbers of the spores that spread the disease.
"These can be spread some distance from tall trees by the wind and in mists, risking rapid spread of the infection to large numbers of other trees."
The helicopter covers large areas of ground quickly, giving good views of the forest canopy.
The signs the experts look for include dead tree tops, branches and shoot die-back with a distinctive ginger colour, as well as any other abnormalities.
Mr Jones said: "Using cameras with built-in GPS, areas of concern can be pin-pointed and ground teams sent in to carry out a detailed inspection."
There are plans for the Forestry Commission to continue the monitoring flights through the summer.