Judith Richardson murder: Graeme Jarman jailed for life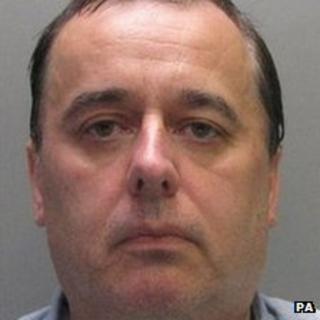 A man who bludgeoned a 77-year-old to death after tricking his way into her home has been jailed for life.
Graeme Jarman, 48, from Consett, County Durham, had denied murdering Judith Richardson in her flat in Hexham, Northumberland in August 2011.
Miss Richardson was hit repeatedly with a hammer and left dying as her home was ransacked, Newcastle Crown Court heard.
Jarman, who has a string of previous serious convictions, was sentenced to a minimum term of 35 years.
'Everyday psychopath'
The jury at his murder trial was not told he had already served jail terms for offences including rape, kidnap, sexual assault and robbery.
More than 20 years ago, he had locked a teenage girl in his car boot in Peterborough, raping her at gunpoint and saying to her: "I am your everyday psychopath."
Judge Mr Justice Openshaw said Jarman "presents an extreme danger to women" and might never be released from jail.
"That he will be detained until he is an old man is a price he must pay for committing such a terrible crime," he said.
He added that Jarman had "shown not the slightest regret or remorse" after taking the life of "an entirely decent, respectful member of the community".
The judge said the minimum term of 35 years before Jarman can even be considered for release reflected the horrific nature of his crime.
"There is no early release for such a sentence," he said.
Miss Richardson was hit more than 30 times with a hammer and, after stealing her handbag and jewellery, Jarman repeatedly struck her again, fracturing her skull.
He then fled, taking buses to different towns where he bought clothes and shaved his head.
Librarian's tip-off
Jarman arrived in Newcastle and threw Miss Richardson's handbag in a bin before selling her jewellery for its scrap value of £300.
A member of the public found the bag, alerted police and officers responding to a simple lost property case discovered the pensioner's body, sparking a major manhunt.
Jarman was arrested in Filey, North Yorkshire, a fortnight later following a tip-off by library staff.
Det Ch Insp Paul Young, who led the investigation, said: "This was a brutal attack on an elderly woman, motivated pure and simply by greed and cruelty.
"This conviction means a dangerous and violent man has been apprehended and taken off our streets."
A statement on behalf of Miss Richardson's family said: "We have not looked for support from people but it has been provided to us and we are incredibly grateful.
"The community in and around Hexham have been invaluable."
Jarman was found guilty by an 11 to one majority.