Washington shopkeeper's wife in plea to find attackers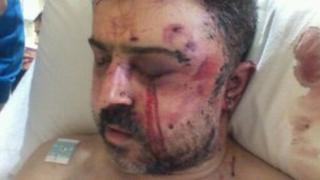 The wife of a shopkeeper has spoken of her anguish six months after her husband was hospitalised following an assault in Washington.
David Basrai, 48, is still recovering after being attacked by two men on 18 November 2011 in his shop in Oxclose.
He was taken to hospital with a serious head injury. Northumbria Police is continuing to search for the attackers.
His wife, Karen Basrai, said: "We'll never be able to move on until these people have been caught."
The shopkeeper managed to make his way home and call police before being taken to hospital.
'Damaged family'
Mrs Basrai said: "My husband has been left physically and mentally scarred by this incident.
"While he is better than he was, he is still recovering and has to come to terms with injuries that will never heal.
"Whoever did this to him has not just damaged him personally, but they've damaged the whole family, the whole family has been affected by it.
"Sometimes we'll forget about it for a few weeks, then something will remind us and it brings it all back.
"These people need to be caught. My husband survived - someone else might not be so lucky."
Neil Wynd, from Northumbria Police, said: "Our priority is making sure the men responsible are bought to justice and face the consequences of what they've done and we're asking members of the public for their help in this."