Flood alerts: North-east England braces for heavy rain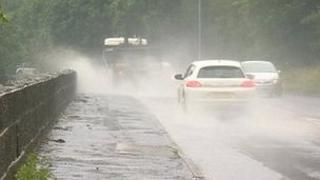 People in the north east of England are being warned to be vigilant with heavy rain forecast.
The Environment Agency said heavy rain was due to move across Tyne and Wear and particularly Northumberland later and early on Saturday.
Northumbria police warned motorists about potentially adverse conditions.
But they said the weather was not expected to be as severe as 28 June when torrential rain caused flash flooding.
Richard Robinson, from the Environment Agency, said: "We expect a band of rain to move up from North Yorkshire through the whole of Northumberland and possibly park over Northumberland for the latter part of today and the early hours of tomorrow morning."
He advised people to check its website and listen to forecasts.
Acting Supt Bruce Storey, of Northumbria Police, said: "The message to motorists would be to be extremely aware of the roads in which they are driving."
Among his advice was for motorists to slow down and allow for extra braking distances.
The enhanced content on this page requires Javascript and Flash Player 9
Map Key
Land
Cloud
Lakes, Rivers & Sea
Fog
Light
Heavy
Frost
Light
Heavy
Pressure Fronts
Cold
Warm
Occluded
Rain
Light
Heavy
Extreme
Snow
Light
Heavy
Temperature tab only
Temperature (°C)
More details from BBC Weather