Middlesbrough bee qualification creates buzz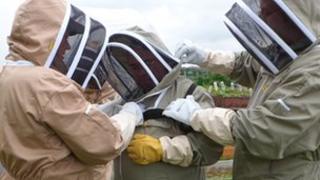 A beekeeping course which has already trained 100 apiarists has secured extra funding to cope with its waiting list.
Students spend two days at Cargo Fleet Lane allotment in Middlesbrough learning the theory behind a healthy hive, then half a day in protective gear handling bees.
The course run by Grown in Middlesbrough Project has 40 would-be keepers on its waiting list.
Now it has been awarded £10,000 from the Big Lottery fund to run further sessions, as well as set up community hives in the town.
Catherine Boyle, of Middlesbrough Environment City (MEC), which also runs the course, said: "Bee populations have been falling worldwide so we are working to reverse that trend.
"It's been a terrible year for bees.
"Beekeepers are counteracting the dire weather by feeding their bees with sugar syrup so they don't starve, which is not ideal but at least will keep them going."
'Self-sufficient'
Unemployed IT technician Jon Anderson, recently ditched computers for a protective suit to handle a hive of thousands of drones during the course.
He has been out of work for six years, but recently managed to secure £5,000 charity funding to set up a community garden at Trinity Methodist Church, in Whinney Banks.
"I had the get up and go but there were few opportunities to prove it - my prospects were dire", he said.
As well as growing his own vegetables and flowers, the 36-year-old enrolled on the beekeeping course with a view to making his own honey to save money, and eventually to make some cash.
"Basically bees are vital to human beings, they pollinate flowers and if this process is interrupted it has a knock-on effect on nature," Mr Anderson explained.
"As part of the course we had to take a hive apart.
"Basically we had to blow smoke into the hive with a special device which makes the drones think they are under attack.
'Gorge honey'
"They start to gorge on the honey - a survival instinct in case they have to leave the hive and this calms them and makes them docile.
"We opened the hive at this point and found the drones had killed the queen bee so it must have been time for a new one - which was interesting.
"There were about 20,000 bees in there but I didn't get stung as I had my full body suit on."
Mr Anderson now has a few job prospects in the pipeline thanks to the garden work and his newly-acquired beekeeping qualification.
Lottery funding has also been used to set up community hives in Stewart Park, Saltersgill Community Allotment and Hemlington Hall Primary School, to get people interested in being self-sufficient making their own honey.
Chris Kemp, spokesman for Middlesbrough Community Learning Service (MCLS), said beekeepers added other strings to their bows during training.
He said: "The links to other skill areas such as woodworking for the hives, food hygiene for the honey and business entrepreneurship are very strong."