Holy Island causeway safety signs for summer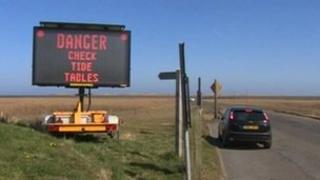 Safety signs are to be installed at either end of a tidal causeway of Northumberland in an attempt to cut the number of motorists becoming stranded.
The move, at Holy Island, follows a two-week trial during the Easter period, which had a "positive effect".
Operating over the summer holiday period, the two signs will advise drivers of the dangers of the tides and remind them to check tide timetables.
Both signs are solar-powered, with a battery back-up.
Timetables around the island have also been made more user-friendly, and contain a barcode which can be scanned using a smartphone.
'Think twice'
The Holy Island Causeway working group, made up of representatives from the police, HM Coastguard, the RNLI and county and parish councillors, was set up following an increase in the number of strandings last summer.
Its chair, Councillor Pat Scott, said: "The trial during the Easter period was very positive.
"The feedback we received indicated that the signs were effective in getting the message across that people must check the tide tables and ensure they are crossing the causeway at a safe time.
"We know that there will always be those few people who will decide to try and drive across the causeway outside of those safe times, but we hope that these signs, together with the other measures we have put in place, will make people think twice."