Durham Miners' Gala: Ed Miliband visit 'timely'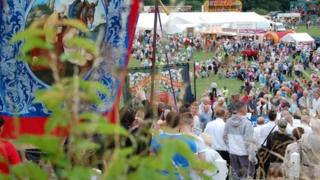 On Saturday tens of thousands of people will gather for the 128th Durham Miners' Gala.
Among them, significantly, will be Ed Miliband.
The Labour leader will speak at the Big Meeting - a celebration of the region's mining heritage and links to the trade union movement.
Mr Miliband will become the first party leader since Neil Kinnock to address the crowds.
He had been due to attend last year but pulled out because of "other commitments". It was widely suggested he did not want to appear with RMT union leader Bob Crow, who was at the event.
Decades on from pit closures that hit wide parts of the region, veterans of the National Union of Mineworkers will mingle with families with organisers hoping for a crowd of 100,000.
Dave Hopper, secretary of the Durham Miners' Association, said: "The Gala is still as relevant as it's ever been. It's the only mass working-class demonstration left in the country."
Craig Dawson, 21, who chairs the County Durham Young Labour group and grew up in Sacriston, remembers going along for a day out with his family.
Mr Dawson is aware of a group of call centre workers from Peterlee, belonging to the GMB union, preparing to march underneath their banner.
This, he thinks, shows how the gala has changed, with new generations working in modern-day mass industries now attaching themselves to the event.
"It couldn't have gone on as a simple mining event because we don't have any mines left," Mr Dawson said.
"Although the pits have closed it's become a symbol of pride for the community to have the banners on show."
Organisers are hopeful Mr Miliband's appearance will boost the attendance.
Mr Hopper said: "We'll welcome him here, it's 23 years since we last had a Labour leader.
"They all should have been here. Blair and co did a complete disservice."
Mr Hopper said people in the North East were waiting for politicians to convey a positive message.
"I think it's time we go back to the values of honesty and caring for people," he said.
"We've got to pick up this cudgel and start campaigning to change society back.
"I always thought it was the ambition of society to improve and make progress, we've gone back in a lot of ways in the last 15 years.
"Let's hope we get a message of hope and inspiration on Saturday."