Sunderland prepares for International Air Show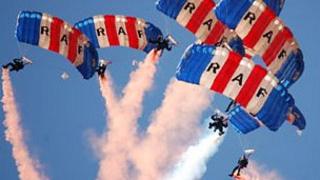 The annual Sunderland International Airshow is taking to the skies for its 24th year.
On Saturday 21 and Sunday 22 July, Roker and Seaburn seafronts will host aircraft of all shapes and sizes.
Household names, such as the Red Arrows , Royal Navy Black Cats and the Battle of Britain Memorial Flight are all due to appear.
And one group, the RAF Falcons Parachute Display Team, has been to all previous 23 Sunderland Air Shows.
The youngest Falcons' member, 27-year-old Sgt James Bruce, will be leading the team of 10 jumpers on Saturday's and Sunday's jumps.
He has 1,100 jumps in the bag and savours each one.
"The way it works with the RAF Falcons is that we each only jump for three years then move back to our "day jobs".
"I'm due to finish in October, then I go back to the Parachute School as a Parachute Jumping Instructor where I teach members of the Parachute Regiment and the Royal Marines.
"I know I like jumping into the Sunderland Airshow, but I have to admit, the one place I love to jump is Lyme Regis... because my Dad comes to see me."
The RAF Falcons will be flying from the Peterlee Parachute Centre and Sgt Bruce feels that the weather will be holding good.
"We get our last met weather briefing one hour ahead of the jump," he said, "then details like the precise flight path and jump height is decided and it's all-aboard the 'Cessna Caravan' to head off for Sunderland."
For a number of logistical reasons, not least the weather, the full flying Sunderland International Air Show schedule is not available until the mornings of the show.
There will also be a full programme of events in the display arena including, the Band of the Royal Regiment of Fusiliers and the Royal Marine Commando Display Team.
You can read more details about the show and get travel and parking information from the Sunderland Council website here... .