Victorian child 'villains' bring Newcastle app to life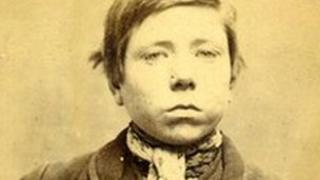 Snaps of Victorian child "villains" locked up for stealing in the 1870s are being used in a new app which aims to bring the history of Newcastle to life.
The mugshots, from the Tyne and Wear Archives and Museums, were taken of criminals at Newcastle Gaol - some as young as 12 - for a whole host of offences.
They include Jane Farrell, 12, who got 10 days' hard labour for stealing boots, and baby-faced James Donneley, 16, jailed for two months for stealing shirts.
The snaps feature in the new app Hidden Newcastle, produced by the archives service, which can be downloaded for free.
It reveals stories about historical characters who lived and worked in the city.
'Hard labour'
John Coburn, spokesman for Tyne and Wear Archives and Museums, said: "The app contains stories about people who lived in Newcastle between the 17th and 19th Centuries.
"It not only includes stories from Newcastle Gaol but also the story of the "Bad Beadle" who in 1858 dug up graves to steal lead from coffins.
"A lady called Martha Wilson who committed suicide in the 19th Century also features and is said to have haunted the Quayside ever since.
"The stories are told by actors and accompanied by photographs of the people and places."
Prison records reveal that young James Donneley, a labourer and just 5ft tall, from Shotley Bridge, had been in and out of prison most of his short life.
Also featured in the app is Ellen Woodman, 4ft 3in tall, caught with two other children stealing iron and sentenced to hard labour aged 11.
The prison, which was said to be grim and cramped, finally closed in March 1925.
A spokeswoman for the archives service said many of the jailed children would have been fending for themselves and been driven to stealing by hunger.
Each story in the app is linked to the location where it is said to have taken place, and users can unlock more stories as they move around the city.