Cerebral palsy op boy Archie Anderson recovering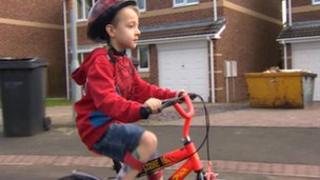 A six-year-old Northumberland boy with cerebral palsy who underwent surgery in the US to help him walk unaided is doing well, his family said.
Archie Anderson's family raised £80,000 to send him to St Louis Children's Hospital in Missouri in the US Midwest.
The youngster, from Ashington, had selective dorsal rhizotomy which is not widely funded or available in the UK.
Just five weeks after two procedures on his spine and tendons, the youngster is riding his bike.
The operations involved severing the nerves in the spine which cause spasms and pain in the leg muscles.
Before surgery Archie was unable to ride a bike, but his mother Marie said that once she helps him on there is now no stopping him.
'Running around'
Civil servant Ms Anderson, 40, said: "It would be lovely to think that in a few months' time he won't have to wear splints.
"Just to have him running around laughing with his friends would be wonderful.
"We were in America for three weeks and it was scary because obviously the procedures were major.
"The procedure has been performed more than 2,000 times at the St Louis Hospital - so we had confidence in the staff."
Archie now has to undergo 18 months of intensive physiotherapy to improve his muscle tone.
The procedure is carried out at Leeds General Infirmary but it can take months for patients to be referred and for NHS funding to be approved.
Ms Anderson added: "Archie thinks the physiotherapy exercises are boring but he loves going out on his bike.
"He does the physiotherapy five days a week and so far everything is going according to plan."