Olympic Festival tents light up Dunstanburgh Castle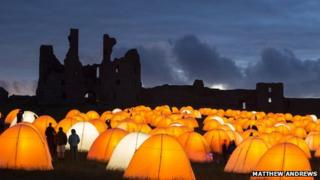 Glowing tents have been set up on the Northumberland coast as part of an Olympic Festival art installation.
The four-night Peace Camp event at Dunstanburgh Castle, near Craster, is one of eight around the UK coastline as part of the London 2012 Festival .
It features illuminated tents, which will emit poetry celebrating the UK's different accents and languages.
People have to register to view Peace Camp, which is in place through the hours of darkness until dawn on Monday.
The project was designed by theatre and opera director Deborah Warner in collaboration with the actor Fiona Shaw, who travelled around Britain recording love poems.
'Outstanding locations'
Ms Warner said: "Poetry was once part of the Olympics and love poetry is the opposite of war. So much of the Olympics is about competition. This is the antidote to that."
It was inspired by the Olympic Truce ideal dating back to the origin of the ancient games which allowed warring Greek communities to come together peaceably to take part in competitions.
Helen Marriage, artistic director of Artichoke, the company commissioned to produce the work, described the chosen landscapes as "inspiring and practical".
She said: "Deborah and I travelled the whole of the UK coastline to find exactly the right locations.
"We couldn't possibly place encampments around the entire 7,000 miles of British coastline and so narrowed it down to eight outstanding locations.
"Each peace camp is sited either close by or next to a manmade intervention in the landscape".
Now in ruins, Dunstanburgh Castle was built in 1313 by the Earl of Lancaster as a symbol of his rebellion against the king.
Its location, defended on two sides by a sheer cliff, so inspired the artist William Turner that he painted it a number of times.