London 2012: G4S replaced at Newcastle's St James' Park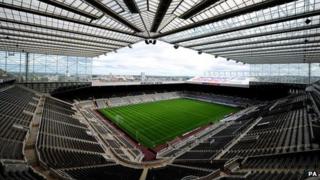 Security firm G4S is being replaced at St James' Park in Newcastle and will not manage Olympic football matches taking place there.
Instead local companies will be contracted to patrol the stadium due to a "significant shortfall" in G4S staff, Newcastle City Council said.
It said Games organiser Locog had approached the council to help fill the gaps created by "logistical issues".
The first football match will take place at St James' Park on Thursday.
A Locog spokesperson said it was in discussion with several companies about providing security for the venue.
'Not be repeated'
The G4S staff who were working at the stadium will now be deployed to a hotel in Gateshead, where Olympic football teams are staying, and the football training ground.
The Locog spokesperson said: "Because of issues with deployment of G4S staff, Locog has asked the company to focus on providing security for the football hotels and training grounds in Newcastle but not St James' Park."
Keith Vaz, chairman of the Home Affairs Select Committee, said: "We were very concerned last week that G4S would not have all their people in the right place at the right time.
"I hope this will not be repeated at different venues around the country.
"We should be very careful as to who we put in charge of securing Olympic venues and those who will have responsibility for this will have had the training that is necessary."
Newcastle City Council was approached by Locog to put it in touch with companies who could supply security last week.
Steven Savage, from the council, said: "The vetting procedure has been security industry approved and [checks] are thorough.
"Many of the staff will have worked in very similar situations and there will be a heavy briefing days before the games."
The council said about 500 staff from the North East would patrol the 52,000-seat stadium, check bags, marshal spectators and carry out routine public safety and security functions.
Northumbria Police officers were called in to provide extra Olympic security at Gateshead's Hilton Hotel after G4S failed to supply enough staff on 16 July.