James Maskrey's glass art on show in Olympic exhibition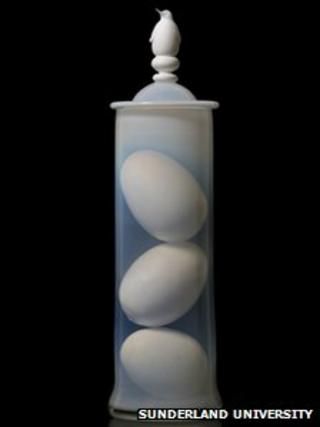 Glass art inspired by Scott's ill-fated Terra Nova Expedition to the South Pole has gone on show in an Olympic exhibition.
James Maskrey, who is based at the University of Sunderland's National Glass Centre, is displaying his work in The British Business Embassy, London.
The Worst Journey in the World shows a lidded jar containing eggs, topped with a model of an Emperor penguin.
Captain Robert Falcon Scott died in 1912 on his return from the Pole.
One of the aims of the Polar expedition was to collect Emperor penguin eggs from a rookery at Cape Crozier in the Antarctic.
'Really honoured'
Mr Maskrey said: "To have your work showcased alongside the likes of Grayson Perry and Wendy Ramshaw at such a prestigious occasion like the Olympics is fantastic.
"I'm really honoured, and Lancaster House is such an impressive venue.
"It's great that this event will give a platform to British crafts and artists on an international scale."
The exhibition organised by The Crafts Council features 21 pieces of contemporary craft for the duration of the Olympic and Paralympic Games.
The British Business Embassy has been developed by UK Trade & Investment (UKTI).