Olympic football ticket delays at St James' Park eased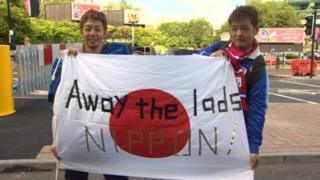 Ticketing delays which meant some fans missed an Olympic football match at St James' Park were resolved for the second round of games.
Some people missed Mexico v South Korea on Thursday in Newcastle due to long queues for tickets.
Olympic organiser Locog said the queuing situation had been unacceptable.
A number of changes were made to the ticketing process ahead of Sunday's matches.
After the problems at Thursday's games, which saw hundreds of people queuing around the ground, Geoff Hodgson, the North East board member for Locog, said the same could not be allowed to happen again.
Locog ticketing and venue teams and Newcastle City Council held a meeting to look at improvements for future matches.
Changes included creating a second ticket office for people purchasing on-the-day tickets, more staff and many tickets being pre-printed to speed up the process.
Newcastle City Council's director of 2012 operations Stephen Savage said the only real wait had been for people who turned up close to the kick-off time to buy tickets.
He said: "There will always be one or two teething issues but what a tremendous improvement."
In Sunday's matches, Japan beat Morocco 1-0 and Honduras beat Spain 1-0.
Matches in both the men's and women's football competitions are being played at the Newcastle ground until Saturday.